It will not surprise you that I am a lover of many varieties of baked goods. While Rice Crispy Treats aren't technically baked goods (they're cooked on a stovetop, or sometimes even in a microwave, classifying them as "no-bake") they're definitely likely to show up at bake sales. And bake sales are where my favorite kinds of desserts come from. When it comes to cookies, brownies, and cakes, I prefer the kind of sweets that come from boxed mix or slice-and-bake dough, almost every time.
My younger sister, Jamie, however, resides in the opposite camp. She went to pastry school and worked under several pastry chefs before turning in her apron and starting work as a publicist. She loves fancy desserts, the kind made from scratch and a bunch of ingredients you actually see during the baking process. Jamie bakes for most of our family gatherings, and while her desserts are really good, I sometimes crave those boxed-mix baked goods that remind me of my childhood and line the "American food" aisles of international grocery stores.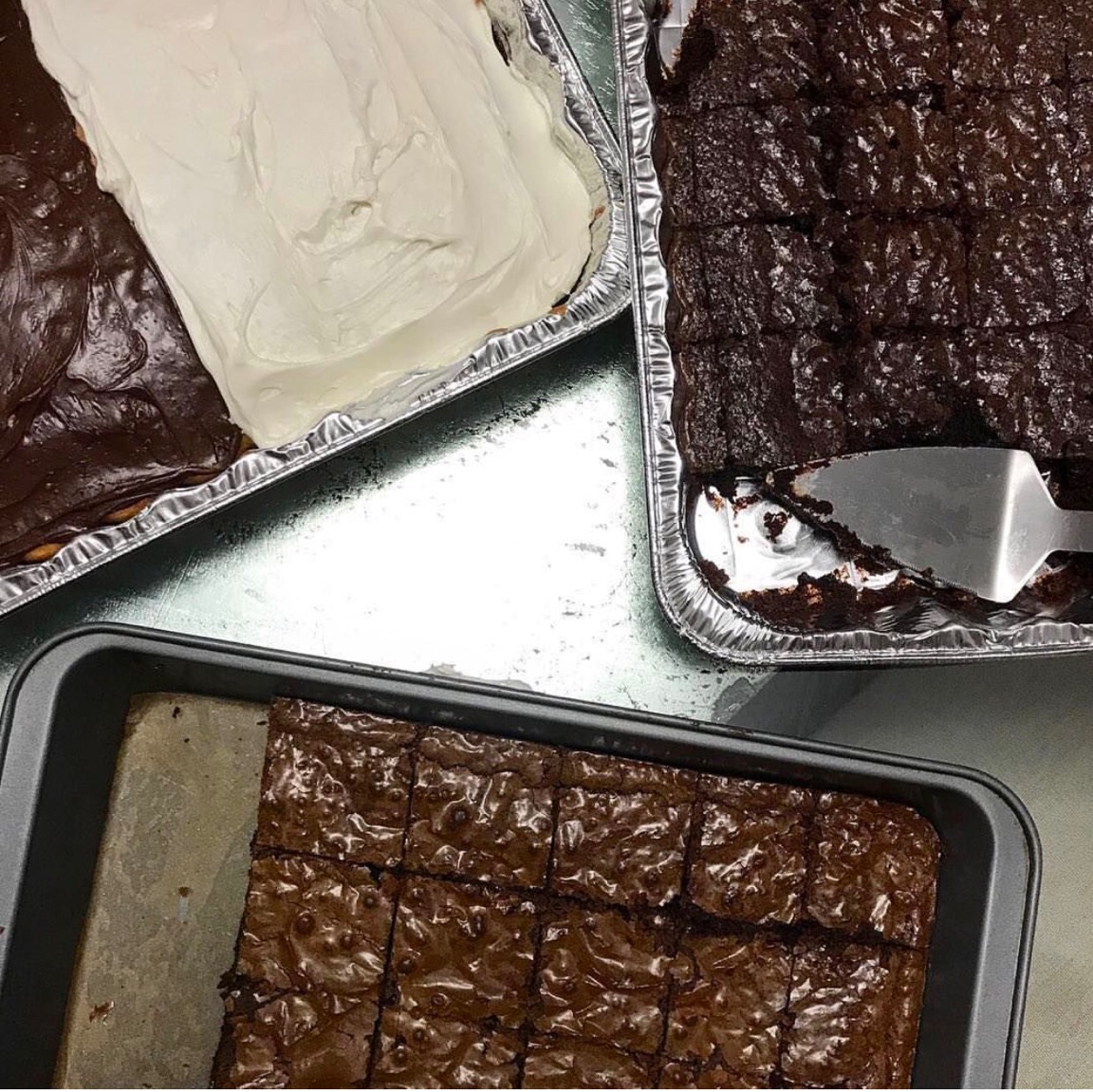 It's kind of like the all-other-pizza vs. Domino's/Pizza Hut/Papa John's pizza debate. Pizzeria or Italian restaurant pizza is good, and arguably better than chain pizza. Pizzerias and Italian restaurants use fancier, fresher, ingredients and have all kinds of brick ovens and fancy pizza making techniques. But sometimes, you just want Domino's. It's a different food than regular pizza, but it still has a place in the culinary kingdom.
On Mother's Day, we had some time to kill before dinner. Jamie suggested we bake, and I suggested brownies. But I wanted boxed brownies, and Jamie wanted to make her favorite brownie recipe that she'd learned in pastry school. So we decided to have a bake- off.
I picked up a box of Pillsbury Chocolate Fudge Brownie mix, while Jamie requested a bunch of ingredients from the supermarket.
While Jamie melted chocolate with butter over a bain-marie, I combined my brownie mix, eggs, and oil, while detailing the competition on my @mister_krisp instagram story. I was so caught up in the competition that I forgot to add water to my mix, but remembered just in time. I was worried I'd made a fatal mistake, but quickly remembered that boxed brownies are almost impossible to screw up.
We put our brownies in the oven for the same amount of time, and let them cool while we ate Mother's Day dinner. I'll be honest, Jamie's brownies (on the bottom in the above photo) definitely looked better, but this was a taste contest.
After dinner, we blindfolded our parents and my sister's husband, Andrew, so they could judge the competition. Though my brownies came out EXACTLY HOW I LIKE THEM and Jamie's tasted a little too fancy for my liking, the vote was unanimous for Jamie's brownies. I'm just a simple girl.
After the judging was over, I ate like, half a pan of my brownies. They were the winner in my heart, but I respect the decision of the judges.
Anyways, I recommend picking up your own boxed brownie mix at a supermarket near you, but if you want to try Jamie's fancy brownies (that were pretty good-- just not Domino's pizza good), you can find the recipe here!